How To Play With Plush Toys?
Views: 3 Author: Site Editor Publish Time: 2016-04-20 Origin: Site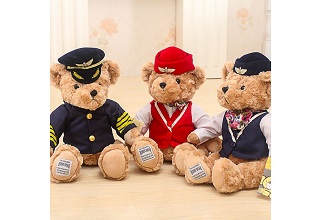 When parents don't have time to spend with their children, they usually buy a plush toy for their children to accompany their children. There is no doubt that plush toys are also the best choice, they don't require too much care, and they can make children feel happy.
But how should kids play with plush toys? When you give the toy to your child, don't forget to tell them to follow these tips to make friends with plush toys.
1. Choose a plush toy he/she likes
You should choose the plush toy which he/she really like according to their own wishes, which will lay the foundation for whether you can really care about it and take care of it in the future. At the time of purchase, you should not only consider the shape of the plush toys, but also purchase them according to your preferred size, color, texture and type of animal. These factors will affect your feelings about plush toys in the future.
2. Give a name to the plush toy
A new unique name will make your hairy toy more like your own family, which will make the toy feel open. You can choose to name it a real name or a pseudonym.
If you want to take a real name for it, you can refer to the human name;
If you take a pseudonym, you can decide according to your personal preference: choose a name that matches its breed;
If it is A puppy, you can call it poppy;
You can also include the color of the plush toy in the name. White plush toy, you can call it cream or snowflake;
If you really can't think of a name, you can also go to some famous websites to make random choices.
3. Arrange your own space for plush toys
Give your plush toys a special area to house them, and at night they can sleep in their own places. If you can lay a small bed for them, it will definitely make them feel important. If your bed has plenty of room, you can put them on your bed and let them sleep with you.
4. Spend time with your plush toys
If your plush toys are small enough, you can accompany them by carrying them with you. If it is inconvenient to take them out of the door, you can tell them the reason to give them a hug or kiss before going out. If you are at home, you can watch TV with your plush toys, play games with it, tell stories or chat with it.
5. Dress up your plush toy
You can buy some clothes, shoes or other decorations for your plush toys. Toys, like us, like to wear new clothes, because different clothes can bring them different feelings and joys. If you don't buy clothes for them, be sure to keep them clean. This requires you to vacuum or clean them regularly. Before you decide whether to clean them by hand or in a washing machine, be sure to read the washing instructions and make the best choice.
6. Find some friends for your plush toys
Plush toys also need friends, especially if you are often not at home, they need friends to accompany themselves, although you may not think so. But the more friends you can make them feel happy, the more like us. Remember, no one likes to live alone.
7. Treat them when the plush toys are damaged
If your plush toys are with you for a long time, they will wear, cut or tear to varying degrees. If you encounter this situation, please don't abandon them and stitch them up. If you don't know what to do, ask for help from family and friends. This is the same as we are sick to find a doctor, they also need treatment.
If you can do this, you really are the ones who love plush toys. Don't throw away plush toys at any time, because toys don't like the feeling of homelessness.
Now pick your favorite toys!